Special Note –
The Other C-Word will only be 99 cents during release week – June 16-23rd
The Other F-Word will be only $3.50 – June 16-23rd
Check out all books at http://www.amazon.com/M.K.-Schiller/e/B00FE0FGDM/ref=sr_ntt_srch_lnk_1?qid=1431384157&sr=1-1
In Other Words – the series blurb
By MK Schiller
There are some words that a woman must overcome to find her own happiness. For the women of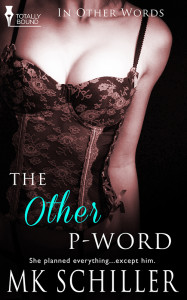 the In Other Words series, each girl has to struggle through the obstacles of her scary word to accept the love of the hot, handsome man that awaits her. Every woman deserves to be loved for who she is, but will these girls be able to get over their fears to accept the commitment of forever so they can have a life of passion and belonging?
Join Marley, Emmie, Stevie and Billie, as they tackle their words, and find out with the help of a supportive family, some awesome tunes, and plenty of humour, a woman can do just about anything!  So pull up a chair, enjoy some dessert with us and let's start dishing!
LATEST RELEASE: The Other P-Word
Suffering from a dark past, he lives his life with passion but no purpose. She planned everything…except him.
Billie Price has always had a plan for her life. On the surface, it all appears on track. But there has always been something missing. Even though she has a purpose, there is no passion to fuel it. Then she meets a mysterious stranger with a dark past. Except Evan Wright is all kinds of wrong—the tattoo-clad, guitar-strumming, Harley-riding modern day drifter is definitely not the right man for her. Yet she finds herself drawn to him and The Lost Souls' Club—the eclectic bar where he works. As all her carefully strung plans unravel, Evan is there to comfort her. As their attraction grows, Billie can't resist the temptation, even though Evan will leave in the fall. At least they have all summer together, not to mention the man knows how to narrate the perfect sex scene for the book she's writing. But as she crashes into Evan's world, Billie has to ask herself—can passion prevail when there is no purpose?
Reader Advisory: Warning—this book contains one raunchy tattoo-clad musician who can rock his tongue as well as a guitar!





by