by

Time To Thank and Appreciate
 I'm participating with some other authors with this new giveaway. We are all posting our reasons to be thankful.
If I had one song to describe 2013 it would be Train's 'This'lll be my year.'  What a spectacular year it was. I saw my first and second book published and signed four contracts. I saw my childhood dream come to fruition and held my creation in my hands. But, all of that wouldn't have been possible without the support of so many.
I know none of it would have happened without the support of my local RWA group. If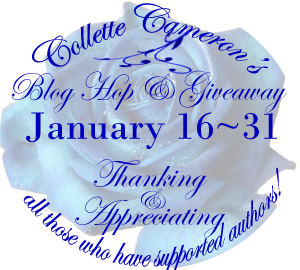 you are a writer, I strongly recommend joining a writing group. I was under the impression that the hard part was writing the book. If you write it….they will read it. That's not true, and thanks to the wisdom of the seasoned writers in my group, I learned to ground my expectations in reality. Our group actually has publishers, editors, and agents come speak to us and sometimes they take pitches. That's how I found my publisher, Totally Bound. I wasn't expecting a contract, just some feedback, but to my surprise they loved the book. I worked with a great editor who let me know it when I was being repetitive or longwinded. But she also let me know when she loved a scene or line. It made the editing process much less intimidating.
Once the book was published, I knew I had to do some publicity, but I had no idea where to start. I saw someone posting on my FB page that they were a new blog coordinator. I thought, I'm new, she's new, why not? I know that logic usually never works out, but it did for me. Laylah Jade became my go-to for blog tours. She had my book promoted and/or reviewed by over forty blogs. She even read it herself! I'm so glad I found her. I'm going to promote her now for a minute and share her link – http://laylahjade.wordpress.com/
Then I was waiting. I paced myself though…only checking Goodreads and Amazon every two minutes for a new review. It's what I called self-stalking. I think every writer does that, especially at the beginning. I don't know if I screamed louder when I got that first contract or the first review! Since then, I've met so many bloggers and readers thought social media. I love hearing their feedback…well okay, I like it more when it's positive, but I try to grow from the criticism as well. Some of the things they have done for me are above and beyond simple words of gratitude. One reader posts inspirational pictures on FB and often tags me. Others have created beautiful mosaics for the book. Their encouragement keeps me motivated. I have to admit whenever I feel defeated, I just read a few of those reviews and I can squeeze out a few more paragraphs.
Finally, I have to thank my family. They have suffered for my craft. There are too many missed dinners, movie nights, and shopping excursions to count. My daughter was my first beta reader, and she has the uncanny ability to constantly keep me laughing. Both my children and my dear hubby have been directly responsible for several scenes in my books. They constantly provide material and fodder for me. My daughter warns all her friends, 'careful what you say around my mom, it just may end up in a book!' I plead the fifth, but I thank my God everyday for giving me a supportive family, who shares in my success and keeps me humble at the same time.
There are many more to thank along the path to publication. Writing a book is a lonely job, but being an author is a group effort. So thank you to all the people who have supported me through the years, and encouraged my dreams.