by

Getting Up Close and Personal … with Zack Lassiter (blog post, Ashe Barker)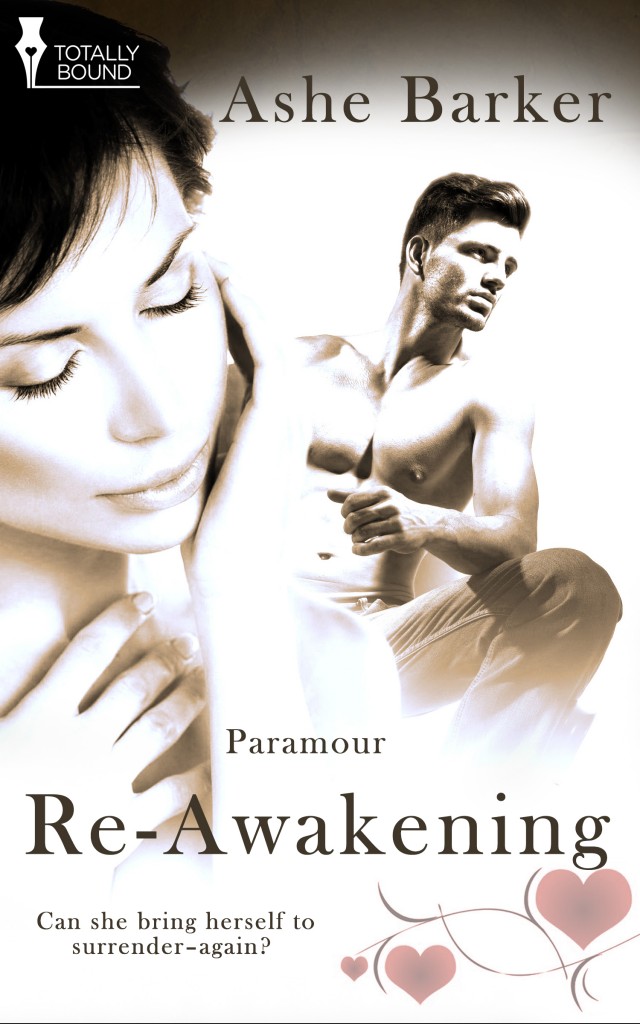 Links –
http://www.amazon.com/Re-Awakening-Ashe-Barker-ebook/dp/B00IAVG9JM/ref=sr_1_1?ie=UTF8&qid=1392084235&sr=8-1&keywords=re-awakening
http://www.barnesandnoble.com/w/re-awakening-ashe-barker/1118426977?ean=9781781849385
https://www.totallybound.com/reawakening
Thanks MK for inviting me over here today to share a snippet from Re-Awakening, my story in the Paramour collection. If you want to get your hands on the whole thing – and who wouldn't fancy getting to grips with the hot and oh-so-sexy Zack Lassiter? – you can find it in the Totally Bound book boutique. The Paramour collection went on general release on 7 February.
Knowing the sort of hot gossip we all like to keep abreast of, I tracked down Zack and fired a few finely honed questions at him. All in the name of research obviously. Here's what he had to say for himself…
Me: Hello Zack, thanks for finding time to chat. I realise you must be very busy just now.
ZL: No problem, lovely to see you again, Ashe. Always nice to chat. Now, what is it you'd like to know?
Me: Well, let's start with the big one and get that out of the way. If I gave you an elephant and asked you to keep it a secret, where would you hide it?
ZL: A what?
Me: An elephant. Big thing, grey, has a trunk.
ZL: Right, an elephant. That's what I thought you said. I think I'd probably stick it in one of Gennie's guest bedrooms. Might be a struggle getting it upstairs, but she's been thinking about getting a lift installed for people in wheelchairs. That might work…
Me: Excellent answer, very inventive. Now for something simpler. What's your favourite colour for socks?
ZL: Red, definitely. Or brown. Black perhaps. Anything really, except white. I don't like white socks.
Me: Excellent taste. So, boxers or briefs
ZL: Boxers as a rule. More ball room
Me: Ball room? Is that an important factor.
ZL: Oh yes, I'd say so. Can't be getting all constricted, it's not good for the circulation. I do like to circulate, when I can.
Me: Right, I see. So, dogs or cats?
ZL: I'm not that keen on either, but probably dogs. Cats tend to trip me up
Me: Apart from Gennie, is there a famous person would you like to get naughty with?
ZL: Me? Naughty? I hardly think so. I'm a choirboy.
Me: Raises eyebrow sternly. Please give the question some thought, Mr Lassiter
ZL: Oh well, as you insist. Scratches head,
thinks hard. I suppose Keira Knightley has her attractions. In a good light. So does Julia Roberts but my own pretty woman is my lovely Gennie
Me: Good answer. Now, would you ever take part in a TV reality show? And if so, which one?
ZL: 'I'm a Celebrity Get Me Out of Here'. Definitely. I'd love to eat slugs and kangaroo penis, and stick my dick in dark holes with rats running around. Full of those tricks, I am. And Gennie would love the trip to Australia to meet me coming back across the bridge through the fireworks and ticker tape. I'd do it for her…
Me: What a hero. Now, could you tell us something we don't know about Gennie?
ZL: She's a closet foot fetishist. She loves it when I stroke her heels and massage the soles of her feet. Purrs like a kitten. She'll do anything for me when I get between her toes…
Me: Yes, quite. (Fans self discreetly) What will I find if I look in your fridge?
ZL: Sod all. Now Gennie's fridge, that's a treasure trove. Ice cream, cheesecake, Stella Artois. I've been known to shove the odd dildo in there when her back's turned – makes for a nice evening's sport.
Me: More fanning. I hardly dare ask – what's your worst quality?
ZL: I'm too self-effacing.
Me: What would you say was the best thing before sliced bread?
ZL: I'm not sure just when sliced bread arrived. I think the internal combustion engine might be up there though. Pennicillin? Electric lightbulbs?
Me: What's the naughtiest thing you ever did as a kid?
ZL: Me and my brother used to play chicken on the train lines near our house. My mum would go ape if she ever knew. Don't you dare tell her – I'll deny it.
Me: What's on your ipod?
ZL: Coffee stains and a swanky cover.
Here's the blurb for Re-Awakening:
Her Master gone, is she destined to spend the rest of her life alone? Or can she bring herself to surrender – again?
Too busy trying to make a living out of her guest house in the Yorkshire Dales, Imogen hadn't time to be lonely, or even think about having fun. And surrender to her innermost submissive desires is just a distant memory.
A widow for six years, Imogen is not looking for another lover, let alone a Master. She had one of those, once, and no-one could ever compare. Certainly not a handsome, cocky young man, passing through the area and needing a room for the weekend.
But when sexy Zack Latimer turns up on her doorstep he instantly recognises the underlying grief cocooning Imogen from the world outside. The intuitive young Dom makes himself at home in her house, and quickly exposes her most private needs and fears. He sees straight through her facade of self-sufficiency to expose the yearning she tries so hard to stifle. Unable to deny or resist the intense attraction she feels for her sensual guest, Imogen is quickly drawn in as he invites her to rediscover her submissive nature. Can she surrender once more, perhaps even  find happiness and fulfilment again with a new Master?
And is Zack that Master, or has he also gone for good?
Author Bio:
Until 2010 I was a director of a regeneration company in Leeds, in the UK, before becoming convinced there must be more to life. I left to work as an independent consultant, and still do some of that though most of my time is now spent writing. At last I've been able to realise my dream of writing erotic romance myself. I've been an avid reader of fiction for many years, erotic and other genres, and I still love reading historical and contemporary romances – the hotter the better. But now I have a good excuse – research.
In my own writing I usually draw on settings and anecdotes from my own experience to lend colour, detail and realism to my plots and characters, but my stories of love, challenge, resilience and compassion are the conjurings of my own lurid imagination.
When not writing – which is not very often – my time is divided between my role as resident taxi driver for my teenage daughter, and caring for a menagerie of dogs, rabbits, tortoises.  And most recently a very grumpy cockatiel.  I'm a rural parish councillor, and I'm passionate about evolving rural traditions and values to suit twenty first century lifestyles.
I've completed my third trilogy in the Black Combe 'family' and I'm well on with writing the fourth, as well as a novella, and a stand-alone novel for Totally Bound's 'What's Her secret?' imprint. All are due for release over the next few months.
Don't be a stranger…
Ashe always loves to hear from readers. You can find her on her blog, and on the Totally Bound site. She's on Facebook, and twitter. She's on Pinterest too, and Goodreads
Here's an excerpt, to whet your appetite
As the car pulled out of her driveway, Imogen flicked over the 'Vacancies' sign in her street-level window to indicate that she once again had space for a weary traveller or two. It was February, definitely the quiet season in the Yorkshire Dales, but there was always the possibility of passing trade. A stray hiker or maybe a die-hard Three Peaker who didn't mind the rain and the fog and the probability of being cut off for days by sudden snow. And she had to face it, she needed the business. After Easter things would pick up, always did, but until then…
Imogen's little guest house was situated in the hamlet of Countersett, close to Bainbridge, in the heart of the Dales. The perfect getaway for intrepid outdoorsy souls or those seeking solitude and inspiration. All Imogen was seeking was a decent living, but every year that seemed more and more difficult to achieve. Foot and Mouth hadn't helped, but that was years ago now. These days it was the recession, and ever more severe weather that reduced the once steady flow of hungry, tired tourists to a meagre trickle. The family whose tail lights were now disappearing around the bend in her lane had been her first customers this week, though between the five of them they'd occupied all three of her available guest rooms, so she'd been glad enough to see them. Imogen had a sinking suspicion they might be her last. She had no more bookings for ten days, and meanwhile she had electricity to pay for, she badly needed to order a new load of logs, and her washing machine was on its last legs.
She saw no alternative if she wanted to carry on basking in such luxuries as light and heat. She needed a job. Anything would do, as long as it brought in a steady wage, and left her free in the mornings to dish up hearty breakfasts to any guests she might just manage to drag in off the fells. Sighing, reluctant to compromise on her dream of running a successful country guest house, but at heart a pragmatist, Imogen headed into her large kitchen to fire up her laptop. She Googled 'temps in North Yorkshire' and sat back to see what emerged.
An hour and a half later, Imogen had managed to register with three temp agencies. She'd possibly been a little overenthusiastic regarding her range of skills, but needs must. She had to get in the door, get in front of some prospective employer at an interview, then, maybe, she could sell herself. She was personable enough, if unremarkable in her appearance. She would never see her forty-second birthday again, but Imogen knew she looked no older than thirty five. Small and slim, she was always on the move, always bustling around, always busy. She kept herself fit, loved walking and cycling and chose not to own a car. Well, she might choose to own one if business ever picked up enough. Pedal power was cheaper, though. Shoulder-length ash-blonde hair—these days helped along by regular visits to a salon in Skipton—and a deft hand with cosmetics meant she could look decent. Presentable even. Add to that honesty, trustworthiness, reliability, reasonably literate. And she was definitely good with money despite having none to speak of. She could do shop work for sure, and would probably manage okay in an office, at a pinch. She wasn't going to win any prizes for accurate typing, but she could find her way around a spreadsheet. Oh yes, she was definitely employable. Now all she had to do was convince someone who could offer her a job.